---
"There can be no purpose more inspiring than to begin the age of restoration, reweaving the wondrous diversity of life that still surrounds us." —E.O. Wilson
---
---
Canyon Creek Watershed Brownfields Assessment
The focus of an ongoing environmental assessment of 232 privately held mining claims lies within a 26-square-mile area that contains the Canyon Creek drainage basin. Here are found scores of mining sites and with them the signs and impacts of their mining past, including waste rock and tailing piles, surrounded by countless dilapidated mining structures and portal openings. The results of the Canyon Creek Watershed Brownfields Assessment are being used to acquire key mining claims in the high country between Ouray and Telluride.
---
Partnership on the Howard Fork Targets Mine Tailings Cleanup
The Norwood Ranger District and the GMUG Forest Supervisor's Office of the US Forest Service received FY06 Forest Service Abandoned Mine Land funds to award a contract to design/build the reclamation of a site near Ophir known as the Carbonero Tailings. The reclamation will be done as a Non-Time-Critical Removal Action under the US Forest Service's Comprehensive Environmental Response, Compensation, and Liability Act (CERCLA) authority.
---
Conservation Easement Near Telluride Protects Gunnison Sage Grouse Habitat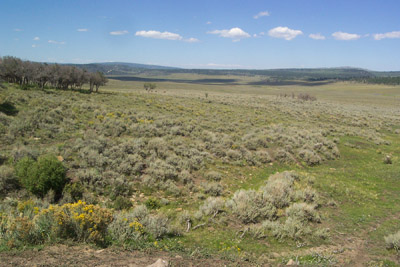 Working cooperatively with landowners Chris and Deann Baker, TLR accepted a conservation easement in December 2005 covering 120 acres of the Baker's property in San Miguel County.  This is the second easement the Bakers have donated on their property, bringing total protected acreage on the ranch to 280.
(See complete details, including tally of TLR easements through 2005.)
---
Trust for Land Restoration Supporters
2005 Donors
 
Individuals & orgnizations:
Chris and DeAnn Baker
Brownell Bailey
Robert Bond*
CD Conservation LLC
Robert Clark
Conservation Resource Center
Paul Gamber*
Geoffrey Hoyl
Angela Knightley*
Jeff Kodish
Melissa Kuwahara*
Tamara Marks*
John Metcalf
April Montgomery
Bob Moran
Lisa Reed*
WebDesign Farm
Cindy Wetherald*
Brook Yates*
Roy Young
*denotes donation in honor of Brownell Bailey
 
2005 Contracts:
Office of the Attorney General, State of California
Town of Ophir
Ouray County
United States Forest Service
THANK YOU!